Pathways to Careers
At Woz ED we take "career ready" to the next level through research-based STEM kits and strong industry partnerships.
A CAREER IN SCIENCE AND TECHNOLOGY IS NOT LINEAR, IT'S ABOUT EXPLORATION AND DISCOVERY.
Customized Curriculum
Woz ED Pathways to Careers! We specialize in science, technology and career-based programs designed to get people into the workforce quickly and affordably. Our goal is to educate and tool the masses to fill the multitude of quality tech-based jobs that are currently open and projected to grow in the coming years. This will not only help individuals and families sustain financial stability, but also help spur innovation and growth in business and government.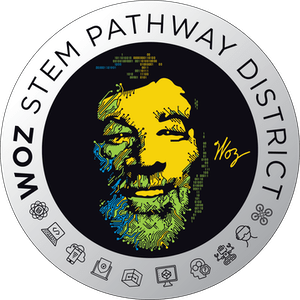 Changing the World
Continuing Steve Wozniak's vision, Woz ED provides a personalized approach to integrating career pathways from K–Employment so learners can land high-demand science and technology jobs and start changing the world. Innovative and visionary educational leaders, inspired by Steve Wozniak, pursue Pathway Status for their students. Woz Pathway Districts, Schools, and Organizations are an elite group of educators that exemplify teaching and learning designed for students to explore their future in the tech economy.
Our partnerships
Schools and Organizations
invisible
Woz ED Pathway Districts and Schools
Woz Pathway Schools are an elite group of Schools that exemplify teaching and learning designed for students to explore their future in the tech economy. Pathway Schools and Districts make a strong commitment to multiple Pathways and access for all students. These dedicated learning environments benefit from signage to build community awareness of the STEM learning opportunities they offer, positively impacting enrollment. Steve Wozniak personally inducts each Pathway School and District each year at our conference.
There are currently 10 Woz ED pathway districts, 15 pathway schools, and one pathway organization. This is just the beginning of a journey to reshape the way we approach K-12 education through embracing an ever-changing world.
Pathway to Adventure Council, Boy Scouts of America
Based in Chicago, Illinois, The Pathway to Adventure Council spans two states, serves more than 21,000 youth members, and includes nearly 8,000 adult volunteers and four service centers. Woz ED and PTAC joined forces to create Career Pathway implementation models that fit the Scouts meeting schedules, size, and locations resulting in an economically viable model that increased enrollment, retention, and diversity in the PTAC programs.
Northeast Florida Regional STEM2 Hub
STEM2 Hub is an active aggregator for the diverse group of educators, corporations, policymakers, funders, community nonprofits, researchers, community leaders and others in the development and ongoing refinement of a local vision for STEM learning in Northeast Florida, reaching Baker, Clay, Duval, Flagler, Nassau, Putnam, and St. Johns counties. Through the process of exploration and discovery, the STEM2 Hub students learn by doing while enjoying themselves in an environment of healthy competition where it is safe to fail and where fast failure can be a strategic tool of innovation. Woz ED was chosen to expand the strong work that was happening in the region with the addition of Drone Piloting and Cybersecurity to the right program offerings.
Western NY
Woz ED has enjoyed a strong presence in Western NY for more than a decade and boasts a field office in the region. Innovative programs in Lockport, North Tonawanda, Kenmore Tonawanda, Lackawanna, Salamanca, Randolph, Falconer, Genesee Valley, and Niagara Falls make this region a popular visitation destination for educators who want to see the Pathways in action.